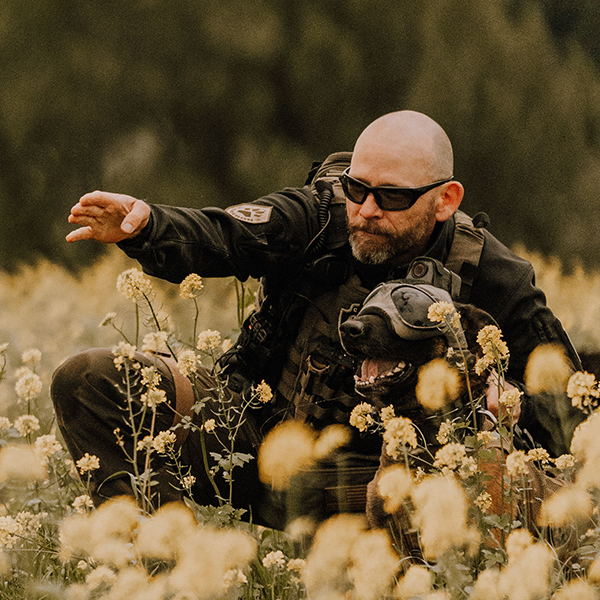 Jensen Huffman
Owner / Trainer
Huffman K9 Obedience was established in 2016 by Jensen with the goal to apply methodology that has been applied in the working dog world and the world of physiology to pet dogs and dogs with behavioral issues to create stable and reliable dog / owner relationships. Jensen has perfected and honed a unique training philosophy through years of working with some of the most dog and human aggressive dogs out there and rehabilitating them to being good canine companions. 
Jensen Huffman started training and working dogs in 2001 and has both handled and trained dogs for the important tasks of Search and Rescue, Explosive Ordnance Detection, Narcotics Detection, Firearms Detection, Human Remains Detection, Counter Poaching and Counter Trafficking.  He holds a bachelor's degree in Chemical Engineering from Oregon State University and studied business at Portland State University for his Masters in Business and Entrepreneurship. Jensen believes that canines are an incredible species, able to form deep emotional bonds with people and assist us as detection / SAR dogs, protection dogs, and therapy dogs who can bring comfort and empowerment to those who are in desperate need.  He believes that it is our duty as handlers and trainers to utilize these animals to improve our community and the world that we live in.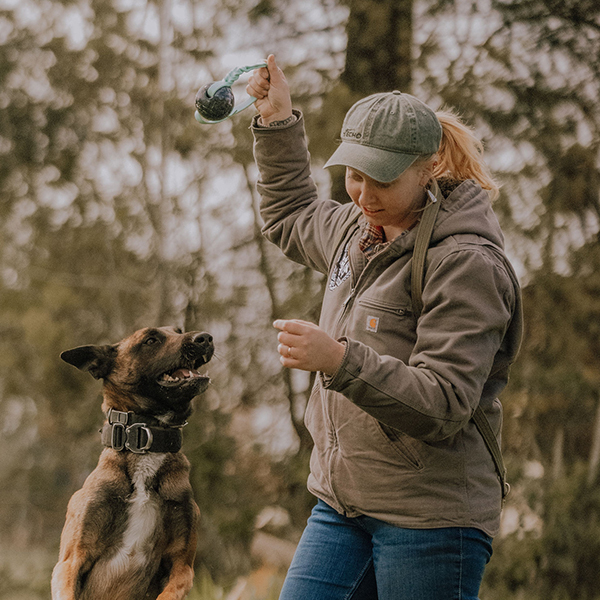 Alayna Huffman
Operations Manager & Trainer
Alayna has always had a passion for animals and this passion led me down many roads that have all contributed heavily to the way she trains now. She grew up training bird dogs with her dad for upland game birds. This style of training was very heavy handed and considered a very "old school" training philosophy. Alayna holds her degree in Fisheries & Wildlife Science. While in college she continued to learn more about animal training through working at the Oregon Coast Aquarium in the seabird department. During her time there she learned more about positive reinforcement training techniques and the benefits of free shaping behaviors. 
Alayna expanded her  knowledge of animal training through a falconry apprenticeship and working with wild redtail hawks. These training experiences, coupled with her background working as a vet assistant, have given her a unique perspective on dog training. With training, Alayna specialize in working with puppies and young dogs to create obedience through engagement with their owners. She focuses on educating clients on a variety of training techniques including free shaping, luring, and appropriate corrections. Her goal for every dog she works with is for them to look forward to working with their owners, to walk appropriately on leash, have reliable recall, and to stay put when asked to.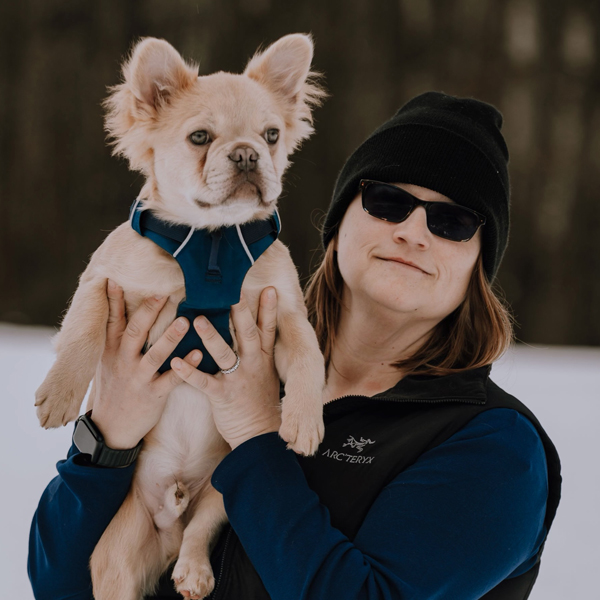 Kelsie Caudle
Trainer
Kelsie began her interest in training dogs during her time working with Life Flight and seeing the need for qualified search and rescue personnel and search dogs. This led her to begin her dog training journey with her main boy Axel (a german shepherd) in 2020. Since then, she has excelled in training Axel to be a top notch tracking dog, trained and certified her dog Ender in explosive ordnance detection, and certified and worked her dog Butters in narcotics detection. 
Kelsie has demonstrated an immense passion for training pet dogs and working dogs. She is the proud owner of two french bulldogs who bring an immense amount of joy to all the staff and clients here at Huffman K9. When she is not here working with clients, she is actively working her dogs on narcotics and explosive detection contracts. Not only this, but Kelsie has a very successful career as a nurse and she brings an invaluable and unique skill set to our team. We are lucky to have her!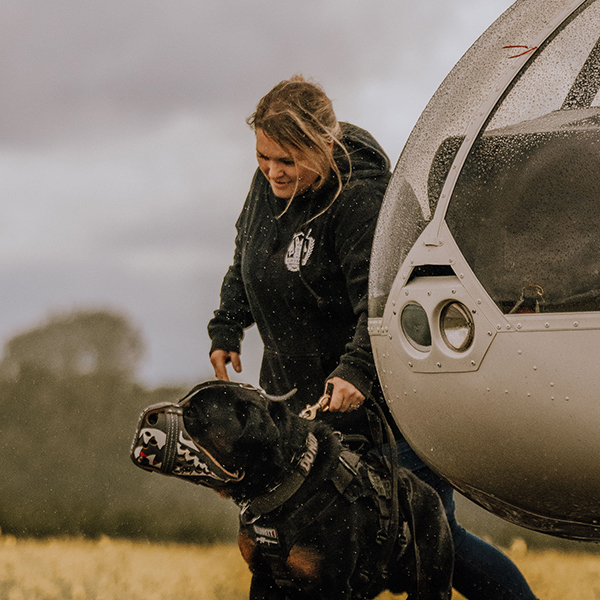 Angel Pick
Kennel Techs
Reagan Richi
Aidan Huffman
Tarah Lile
THE PEOPLE WHO TRUST US WITH THEIR DOGS
Reviews
Jensen is one of the most knowledgeable people as it relates to obedience training. He goes above and beyond and has integrity. He is very good and attentive to each dog and knows a lot about individual breeds. I HIGHLY recommend him!
Great trainer! Really took time to explain the process to my sister and myself. Has a great understanding of dogs and their thought process which they are able to easily explain to you. Great place, great people. 10/10
I am a dog rescue and we highly recommend Jensen Huffman. He has helped many of the dogs in our rescue and our adopters' dogs as well. Above and beyond regular obedience training. Details with core of behaviors in a very effective way. Great guy.
Jensen is amazing at his work. He is passionate and extremely knowledgeable and is committed to his work. Super friendly and wants you and your dog to both succeed. He has helped me completely change my dog for the better! Cannot wait to schedule another appointment with him.